News
We are proud to announce new platform features:
11 April 2018- vidaXL soon to be launched for Lightspeed,Magento

vidaXL has been posted for approval at Lightspeed.

More suppliers coming up.

2 Februari 2018- CCV shop platform support now added.

We have extended our platform to CCV shop

We have launched EDC for CCV shop and NEDIS for CCV shop.

31 Aug 2017 - Magento 2 configurable products support
We are proud to anounce new platform features:
We now support Configurable products for EDC via the Magento 2 API.
New Sync options available in the Extra settings TAB.
31 July 2017

- Magento 2 now officially supported!
We are proud to announce that Magento 2.x is now supported!
21 April 2016 - SeoShop Lightspeed integration and new suppliers

Complete new professional UI design to make a better experience.

We have released WAVE, Pixmania, QWERTY, NEDIS, Eropartner and EDC is upcoming for Lightspeed.

We support configurable products for SEOShop as well.
01 September 2015 - New platform updates
Again, we have added new platform features to make the sync platform even better!
You can now edit your Sync url of your shop, this is helpfull if you work on a staging enviroment and want to sync to your live domain later.
Added a Sync Stop/ Sync Start button so you can stop or start the syncing process in cases this is needed, e.g. during testing your shop.
20 May 2015 - New platform features
We are proud to anounce new platform features:
Added a Empty shop button to delete and clear all products that are coming from Live-Sync.
You can better manage and filter your data / mapped categories in the ""FULL overview section"" on the synchronization page.
31 dec 2014 - December news
It has been a great year for webshopimporter and we would also like to share some of our achievements of this year:
We finally managed to automate and support the import of Configurable products (clothing, shoes etc) via the Magento API.
We successfully implemented Layered navigation as well to support to some of our connectors for a better shopping experience for your customers.
Webshopimporter grew two! times in active users compared to last year.
NEW product announcement and ETA:
We are glad to introduce our new software product: Magstudio 2015 next year. The new site and product features and description should be ready around February 2015.
30 Okt 2014 - Revolutionairy news coming up Magstudio. Visual Develop Magento websites
We know that Magento is a complex e-commerce system. That is why we reduced code and processes to drag and drop and clicks. This is a visual studio which will be free available with some exceptions. This product will integrate with live-sync and eases your workflow when working with Magento. More details will follow up.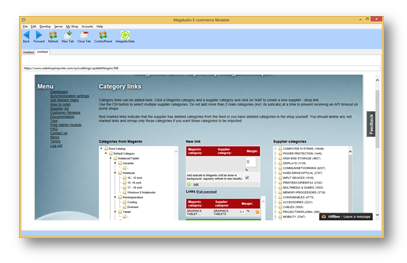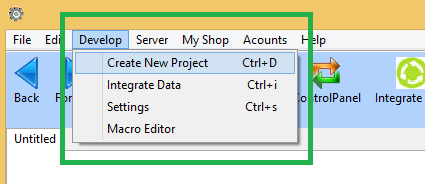 Test offline webstores, design and build.
Project management your store and never lose track of all your files.
Easy create Magento websites offline and later migrate online.
use Macro's to interact between your desktop and online world.
Visual Design your Magento Webstore.
10 Okt 2014 - Tax Id update and added Complies B.V. supplier
We have added a custom Tax id sync option and a new supplier Complies B.V. Nedis XML Connector stability update for better downloading of product images. Improved image handling when using whitespaces and double image names in the feed.
14 July 2014 - New supplier: QWERTY B.V.
We have added support for the following NEW supplier: QWERTY B.V.
Qwerty B.V. is a fast growing harware, components and mutlimedia distributer in the Netherlands.;
20 May 2014 - New supplier, improved connector performance.
We have added the following NEW supplier: WAVE-Computers.
General optimizations and compatibility improvements were made to various feeds for better performance. Coming months we will start focussing on resell and license possibilities for webdevelopers.
1 January 2014 - New suppliers and outlook for 2014
First off, the Magdeveloper.com team wishes you a very happy and succesfull 2014!
We are very proud of what we were able to achieve last year, building a new, robust, and super easy to use product import platform that eases the import proces for a vast amount of e-commerce companies around the world. More and more, smaller and larger companies have adopted Live-Sync as their prefered choice of data-import technogy. We will continue to improve the system perfomance wise, add new suppliers and constantly keep adding new features. -The last few months we have added new suppliers to the system: Synnex, Ingram FR, Gameformule. -2014 will bring advance Import reports with statusses and we will focus on licensing our technology to third-party develeopers and webdevelopment studios. Happy selling :)
3 September 2013 - Improved Icecat compatibility and speed.
-We have further improved Icecat compatibility for use with e.g. Ingram Micro.

We further optimized Live-Sync for multi-store environments
New Supplier: Wave Computers now integrated!
Your supplier not in the list? Contact us!
7 May 2013 - Major Magento Live-Sync platform update announcement!
The last two months we have been working very hard on several new platform features to improve your import expercience:
-Live-Sync will now automaticly import attributes such as EAN and Manufacturer into your shop which can be used e.g. for Google Shopping or other listing directories. This is a huge achievement because attributes can offer a whole range of new possibilities with other third-party modules.
Added multi-shop support: You can now run Magento Live-Sync in a multi-store setup.
Added support for Ingram Micro DE.
We have started working on a new informative tour website for Magento Live-Sync.
12 February 2013 - Critical update: Added Smart supplier data checking & performance update.
We have now added Smart Supplier data-checking before any feed gets imported into webshops. In case that any data export from suppliers fails, the shop will not be updated with the corrupt feed. Also we have completely re-written and improved the update routine of products and product urls. Best thing about Live-Sync: All customers will now automaticly benefit from this update!
21 January 2013 - Added Real-time sync statusses to the synchronization page! See what's going on!
We have now implemented a new feature that will show you all the import statuses of your connectors! Also, we have fixed an issue where in some cases product margins were not correctly updated.
15 January 2013 - Multi-image support for Nedis!
Dear Live-Sync user, first we want to wish you all the best and e-commerce succes for 2013! :)
We are happy to anounce that we have now implemented multi-image suppoprt for Nedis. When available, there will now be multiple images shown on the product details page.
18 December 2012 - Live-Sync Platform update!
This week we will implement a new data monitoring system that automatically checks and monitors all your connectors!
05 December 2012 - December DEAL!
Check out our Magento Kickstart hosting deal + Magento Live-Sync!

16 November 2012 - Live-Sync Platform performance update
We have significantly improved the update speed of products after first the time import, now our update routine checks even smarter which products to update and which not.
14 November 2012 - Eropartner has now been fully integrated with Live-Sync!
We are proud to anounce that Eropartner has been released!
26 October 2012 - Ingram Micro UK support coming up soon!
Ingram Micro UK support coming up next week!
22 October 2012 - Nedis for Magento Live-Sync has been released!
We are proud to announce that Nedis has now been integrated with Live-Sync.
19 October 2012 - Nedis integration coming up next week!
19 October 2012 - Multi-platform and multi browser to support your business process at the office or on the go.
It has been a long road to develop our new core technology. Starting with our Universal Product Importer, built as a client software tool
in 2008 we developed the extended online version. With new platforms available we made sure that Live-Sync is now accesable from
other platforms or browsers as well.